Home2
It's no secret that, pound for pound, big peacock bass are the most aggressive, hardest fighting fish on earth. What's not as widely known is the inside secret to finding and catching those largest of all jungle giants that slam your lure like a freight train.
River Plate holds 12 exclusive entry permits to fish in Indian reserves and Government Preserves where there is no fishing pressure by anyone other than River Plate clients. Importantly, River Plate's exclusive rivers are not in a single area where undesirable water levels and poor weather could shut everything down. On the contrary, there is always good fishing somewhere in River Plate's vast fishing area.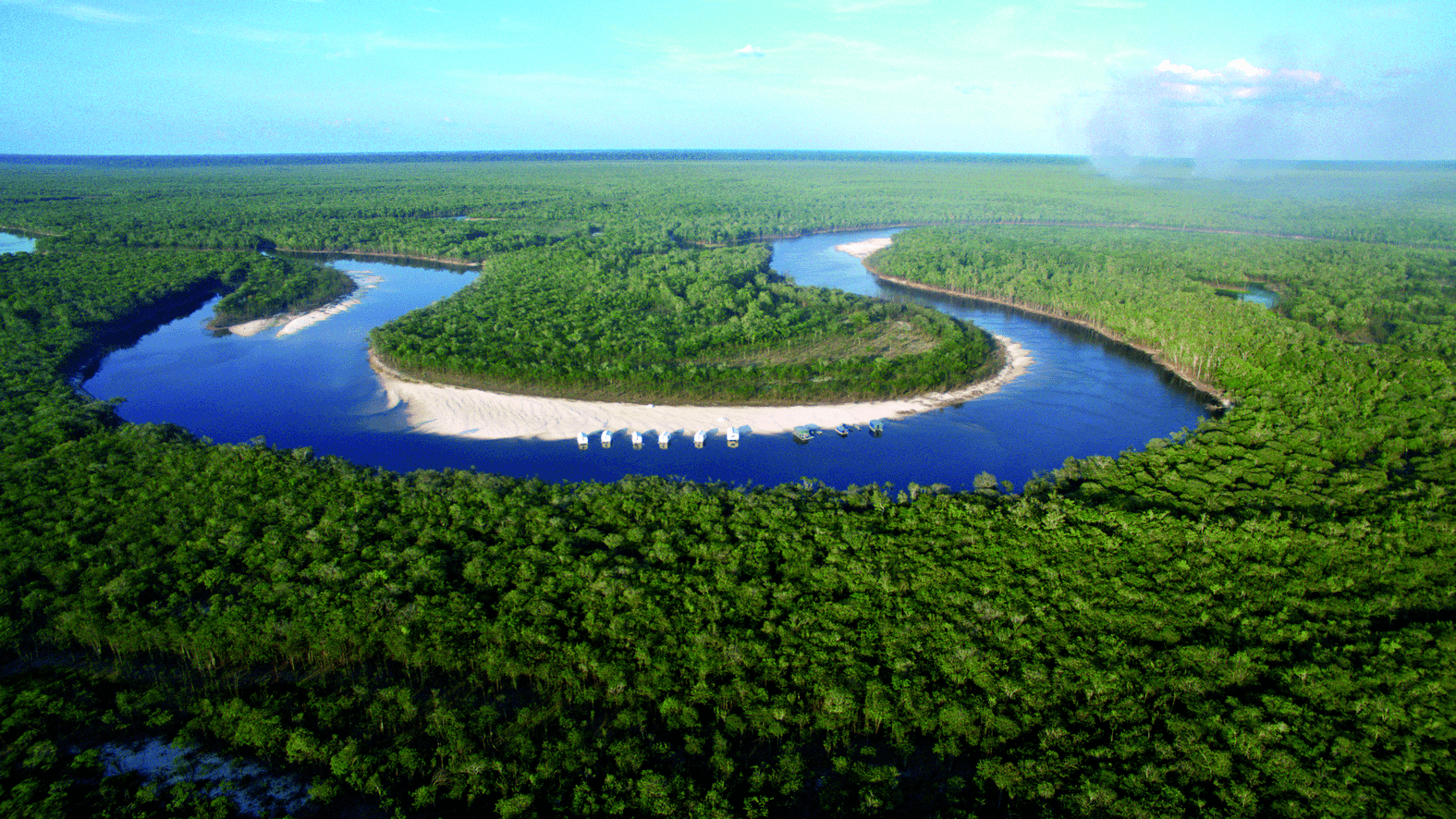 Over 70 percent of the good habitat for big peacocks in the Amazon is walled off by sand bank barriers with depths less than three feet. River Plate's solution to that problem is the use of float planes to reach pre-positioned River Trains powered by shallow-draft tugs that can penetrate all but the shallowest of headwaters. The result is great fishing and the ultimate in client comfort. Typically, a River Plate client can count on being moved at least twice during a week of fishing to ensure access to new, un-fished water where the biggest fish have not been disturbed.
Having Lots of Rivers Is Key
Productive fishing in the Amazon occurs only during low-water months when 70 to 80 percent of the flooded jungle dries up, concentrating peacock bass in only two to three percent of the area they inhabit during other parts of the year. Fortunately, rivers in the Amazon do not dry up at the same time. In fact, there are four distinct rainfall season-zones across a 1,000-mile diameter of prime peacock habitat in the Amazon Basin.  River Plate has exclusive rights to fish rivers in all those season-zones.
River Plate Anglers has pushed hard to implement successful stewardship initiatives that put communities in charge of their local resources. Utilizing our long term Community Based Preservation Policy and structure, River Plate Anglers has persuaded Communities to ban all commercial fishing and almost all lumbering, and it has helped reduce the amount of high-negative-impact farming taking place in a number of water basins. We have promoted sustainable activities as milk and derivatives production, exotic fruit processing, artisan souvenir production, fishing lure production as well as organic vegetable growing for which we generate a sustainable demand throughout our sport fishing and eco-tourism operations. In 2019 these activities brought benefits to 80% of the families in the Communities of the rivers where we operate.
Thank you for great fishing! Hope to come back to you soon. Best regards. Managing Director. Royal Safari S. A.
I spent my 21st birthday last January peacock bass fishing in the Amazon with my grandpa, Charlie Reichenau. I couldn't have wished for more. I caught my first 20 pounder the day before my birthday and topped it off with a 21 pounder on my 21st birthday. Trip of my dreams!
My group of three returned to Brazil in January 2016 for another week of peacock bass fishing with Rod & Gun Resources. We were scheduled to fish northwest of Manaus, but the water levels were very low. Fortunately for us, J.W. Smith changed our destination about a week before we left and sent us to the upper Matupiri River. We had an amazing week of fishing with most fish caught on big top-water High Rollers. In six days of fishing, the three of us caught 596 peacock bass with 65 over eight pounds. Our biggest fish were four at 14 pounds, two at 16 pounds, and one at 18 pounds.