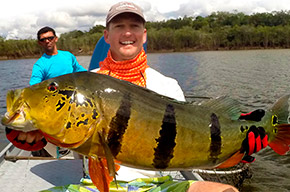 Giant Peacock Bass
World's best Peacock Bass fishing experience in the wild & exotic Amazon River.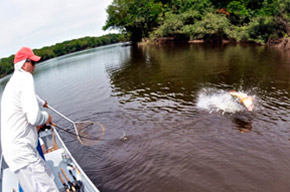 Private Fisheries
Exclusive entry permits to fish in various Indian reserves and government preserves.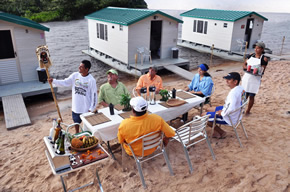 Floating Cabins
River Plate's ultimate solution for optimizing shallow drafting mobility, comfort and luxury
Fly-in Floating Cabins
The "River Train" Concept
The "River Train" Concept River Plate's Fly-In Floating Cabins are the ultimate solution for optimizing shallow drafting mobility. Fish in the wild and exotic Amazon River in style with comfort. The infrastructural aspect that distinguishes our Amazon Peacock Bass fishing trips is our truly unique and highly mobile, deluxe, air conditioned Fly-In Floating Cabins, introduced in 1996, providing unprecedented level of services, facilities, comfort and safety. Undependable water levels and over-fishing are chronic problems with fixed-base operations. Many land-based lodges are situated in exclusive private-water areas but they can neither move to seek out optimal water levels nor move far away enough from their central location to reach unfished waters. Our Fly-In Floating Cabins move, with normal water levels and river conditions, to unfished river segments, staying overnight along Caribbean-like white sand beaches.
Learn more about Fly-In Floating Cabins
"It was a pleasure to share the River Plate camp with a group of great guys. The stories were absolutely as tall as they could get, the camp itself was great, cabins extremely clean, the service was tops, food was probably the best I have seen at any camp"
Thank you for great fishing! Hope to come back to you soon.
Best regards. Managing Director. Royal Safari S. A.
I spent my 21st birthday last January peacock bass fishing in the Amazon with my grandpa, Charlie Reichenau. I couldn't have wished for more. I caught my first 20 pounder the day before my birthday and topped it off with a 21 pounder on my 21st birthday. Trip of my dreams!
Of my seven peacock bass fishing trips with Rod & Gun Resources, this past November's trip was the best ever. Our group of seven fishermen caught well over 2000 fish. Some days I landed over 100 fish. My last day I caught 66 peacock bass … three 15 pounds, a 16 pound,17 pound, 19 pound and 20 pounder. I was back in camp, exhausted, by 2:30 in the afternoon
My group of three returned to Brazil in January 2016 for another week of peacock bass fishing with Rod & Gun Resources. We were scheduled to fish northwest of Manaus, but the water levels were very low. Fortunately for us, J.W. Smith changed our destination about a week before we left and sent us to the upper Matupiri River. We had an amazing week of fishing with most fish caught on big top-water High Rollers. In six days of fishing, the three of us caught 596 peacock bass with 65 over eight pounds. Our biggest fish were four at 14 pounds, two at 16 pounds, and one at 18 pounds.