SINGLE & DBL CABINS
TRAVEL IN COMFORT AND STYLE
River Plate has six independently operated River Trains consisting of 4 to 8 single- and double- occupancy guest cabins, various support cabins, and a shallow-draft tugboat. Each River Train has a 12' x 23' dinning/sitting lounge, where guests dine on linen tablecloths enjoying our chefs' four course meals. On arrival from the US, guests fly directly to the river they will be fishing, landing on the water near where their designated River Train is parked. Typically, that "parking spot" is a sugar-white sandbar where arriving anglers can enjoy their choice of a celebratory drink.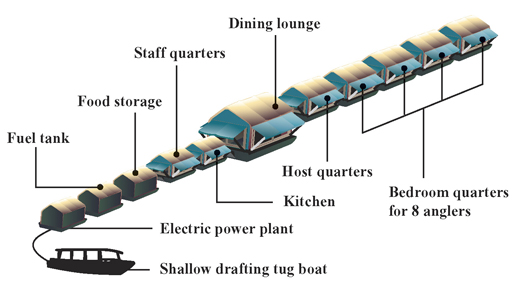 Each River Train is managed by a Brazilian "co-owner" selected for his knowledge of the local fishing and his experience in handling the complex logistics inherent in an Amazon fishing operation. Since our groups are small, our River Train managers, together with a bilingual host and a staff of 14, are able to offer personalized hands-on attention. Breakfast on the terrace of your private cabin, late-afternoon beach massages, an evening drink or two on the sandbar before dinner are a few of the available amenities. All of these amenities will be delivered with NO BITING INSECTS, by the way, a happy result of the presence of taninn in the waters we fish and the low water levels we seek out to assure clients will have good fishing. Anglers fish 2 per boat with 1 guide from fully equipped 21-foot bass boats.
Come challenge the truly large peacock bass that frequent our remote waters. Let others fish the main waterway and deal with the crowds that settle for public waters!