2021-2022 Season Preview
At River Plate Anglers, we are excited about the start of a new season of Amazon fishing.
We will begin this season in our Dry Season-Zone South West, which has the best water levels for fishing at this time of the year.
---
Water Level Report on South West Zone


Water levels in the Matupiri are expected to drop to an ideal level by the time our first anglers arrive. This can be further evidenced in our 10-day forecasts.
---
Today's 10-day accumulated rainfall forecasts for the towns marked in orange below affect water levels on the Matupiri on South West Zone. The accumulated rainfall between 1.5 and 2 inches means that water levels will drop in the region.
Manicore: 1.7 inches (marked as "

1

" in the 3 Month Rain Forecast Map)
Novo Aripuana: 2.08 inches (idem "

2

")
Autazes: 1.73 inches (idem "

3

")
Borba: 2.14 inches (idem "

4

")
Humaita: 1.48 inches (idem "

5

")
Barcelos: 2.32 inches (idem "

6

")
Manaus: 1.18 inches (idem "

7

")

Source: wunderground.com
---
3 month rain forecast map
(valid for August-September-October)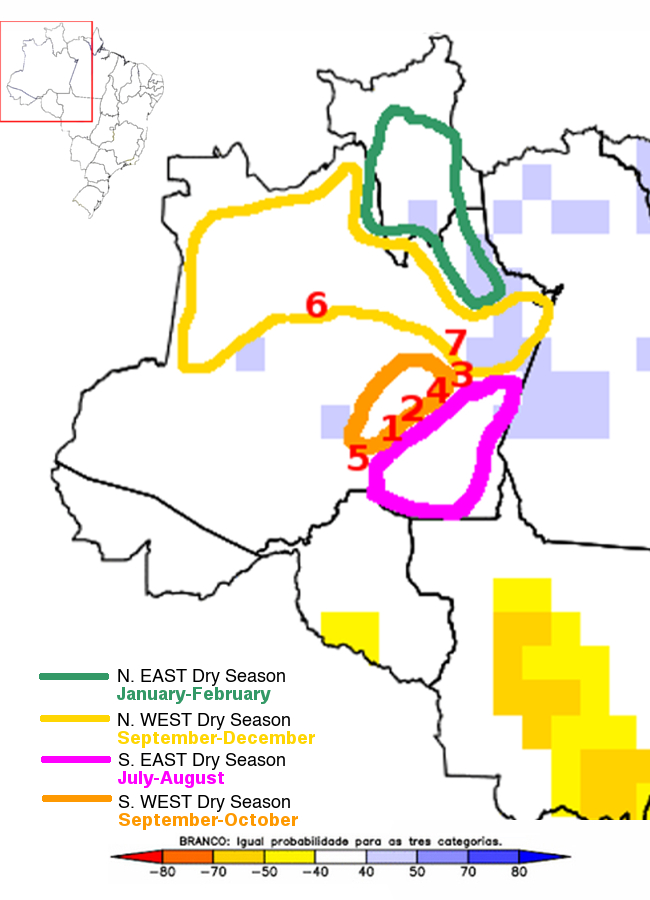 In the map above, note that our preferred fishing area for this time of the year, South West Zone, should receive about the expected rainfall for this time of the year (we are currently in the dry season for the southern Amazon). The Barcelos area (number 6) where most anglers fish in public waters should receive higher rainfall, as shown in the 10-day forecasts above. As a reference, the city of Manaus is marked as number 7.
---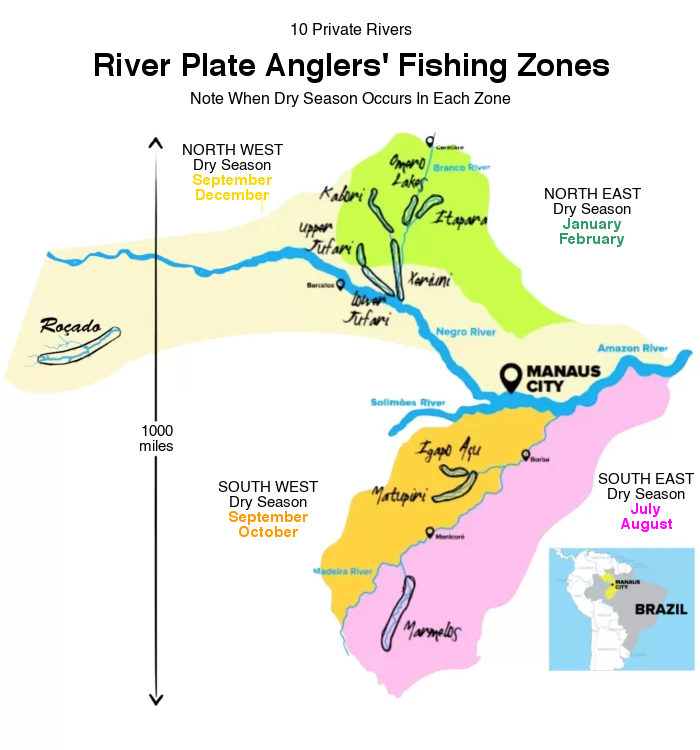 River Plate Anglers has access to 10 private river areas that drain some 30 million acres of pristine Amazon rainforest populated almost exclusively by indigenous groups that allow River Plate to fish their waters on an exclusive basis in return for various forms of support. Having so many rivers is part of our River Plate Advantage™. The other part of our River Plate Advantage™ is keeping up to date on water levels in all those areas. We do that from an office complex in Montevideo, Uruguay, we have dubbed our Situation Room. There, we pore over river data and weather forecasts basin-wide on a daily basis to ensure our anglers fish waters that are in prime condition. Our competitors, with few waters to fish, poor mobility, and limited insight into basin-wide water level fluctuations rely largely on guessing and hoping. We rely on facts.
---