MID-WEEK FISHING REPORT: JULY 29 – 31 (2 ½ DAYS)
MARMELOS RIVER PRIVATE FISHERY AT IT´S FINEST
Last week ended with every and each angler landing over 247 peacock bass of which 28 exceeded the 10 lbs mark with the largest one weighing 17 lbs.
Sight fishing on the Marmelos Indian Reseve is outstanding! Anglers landed 956 Peacock Bass in only 2 1/2 days of which 103 where over 10 lbs , two 16 lbs, and two 18 lbs .Aproximately one third of the over 10 pounders where sight fished.
The Floating Suites are positioned in Dry-Zone S.East  with  perfect weather conditions for the rest of the week (see below forecast for Manicoré).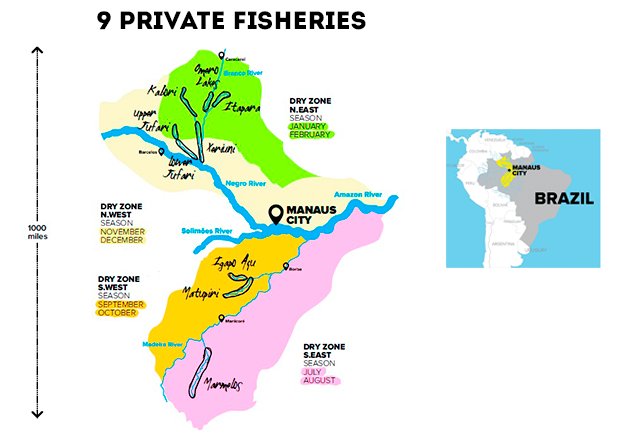 ---
 Dry-Zone S.East  RIVERS: MARMELOS  (see map at the top). Open for peacock bass fishing. Water levels have descended since last week and are now perfect (see diagrams below). Weather forecast is also perfect. Fishing conditions for peacock bass are ideal at this moment.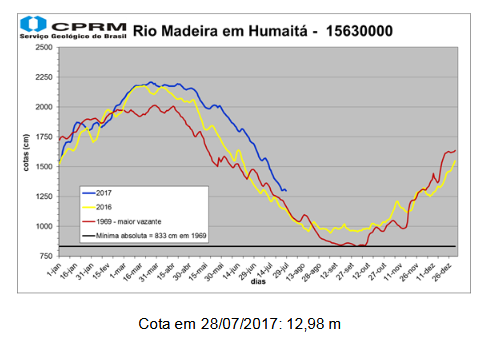 Water level chart for Humaitá (Madeira river) where the blue line represents actual levels, the yellow line last year´s levels and the red line historical extreme water levels.
---

Weather forecast for Manicoré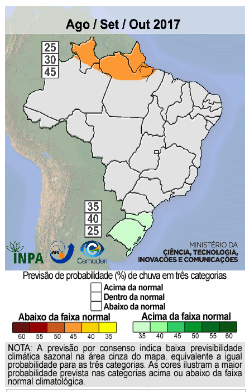 The above diagram depicts the rainfall probability for three months. The pale orange zone in the North forecasts a probability of about 45% that the rainfall will be below the historical mean. Therefore there will be a chance, that the water cycle develops earlier in the coming months in the North of Manaus (Dry-Zones N.West and N.East).
---
---
---
All other Regions have high water levels and are not yet open for this 2017 – 2018 season. This illustrates de importance of mobility within these 4 distinct Dry Zone areas.
All other Regions graphic water levels are as follows:

Marmelos Gallery