Mid-Week Fishing Report: Oct. 06 – 08, 2018 (2 ½ days)
33-year record

 

on the 2nd day on opening week at the famed

Uneuixi-Roçado
LAST MINUTE – BREAKING NEWS:  
Tuesday Oct.10th, 2018, a date that 7 anglers fishing at the

Uneuixi-Roçado

will never forget. The tally started with a 22 lbs. peacock bass and continued with

21,21,20,20,19,19,18,17,17,17 lbs 

and up to 84 landed peacock bass in one single day!
We all know how everyone  gets excited a new destination for  super trophy Peacock Bass fishing.  Well, this is it! During River Plate´s  30-years in the Amazon, the  Uneuixi-Roçado private fishery was the best-of- the-best  for trophies, (even better than River Plate´s  famed Unini),  until it was  closed down in 2005, but after many negotiations with the Indian authorities we re-opened just  last month . In 2005 one of our last parties (  David Isaac´s party from Canadian ,Tx)  landed 46 "twenty pounders" of which 6 were within  23-24 lbs ,and over 100 peacocks were in the  16-19 pound category. In another previous party , one angler, only , agent Alan Zaremba of Hollywood, Florida landed eight peacocks over 20 pounds with the largest at 24 pounds. River Plate  never again matched these weekly results.
To sustain the historical  high number of  trophies per angler, we have  limited this private-water 200 nautical mile fishery to only 72 anglers from  August through early December.
Although the  Uneuixi-Roçado as of today, stands as the industrie´s best ever fishery for trophies landed in ones single day, water levels are still a bit high for Dry Zone N. West. (see map below)
Simultaneously we received two groups at the Matupiri / Igapo-Acu system, where although the water levels are not ideal, they still landed over 1.000 peacock bass over the weekend and 1.543 for the complete previous week  Fishing has dropped since waters are not ideal, and we are approaching our maximum support of 1.6 mile per angler plus the nesting season is initiating . We will be resting this fishery for the season with only 6 weeks of fishing.

We will be posting pictures in next week´s report.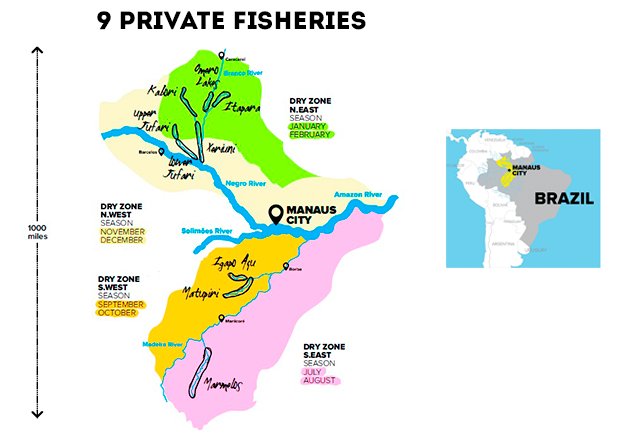 ---
---
---
---
---
Gallery