Mid-Week Fishing Report: Oct. 13 – 15, 2018 (2 ½ days)
UNEUIXI –

ROÇADO

TROPHY NEWS : 2 fly-anglers landed 5 trophies last weekend, 22,20,20,18,17 lbs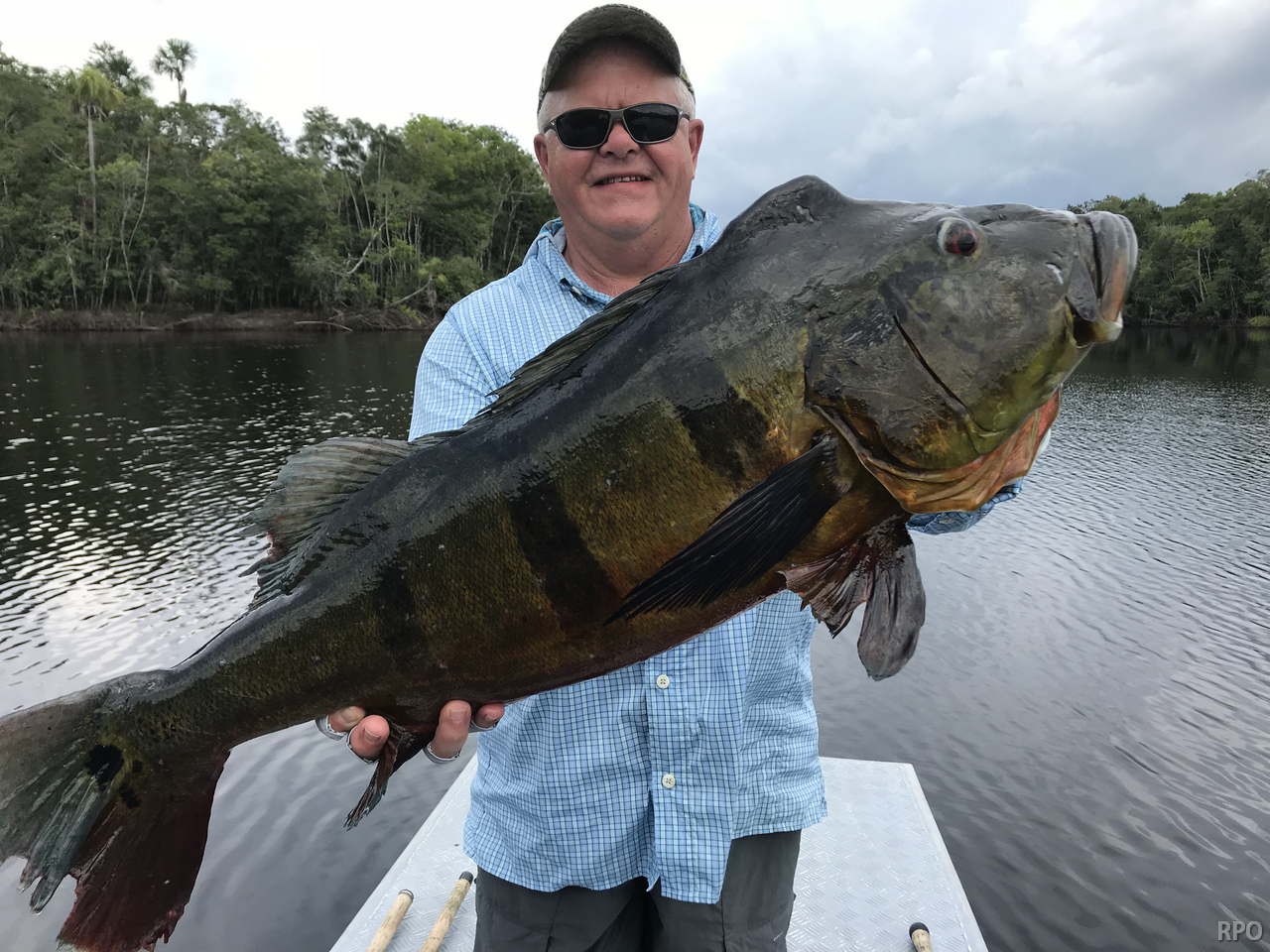 Week-end tally: The Roçado private fishery  on  upper Uneuixi Indian Reserve ( not yet incl. in map below ) is delivering beyond our expectations. Last week´s Hughes group largest trophy weighed 24lbs ,and this week's group had a great start. Only,two fly anglers landed  5 trophies for starters , meanwhile the rest of the group landed  9 trophies over 16 lbs , all in just  2 ½ days. Camp reports lots of top water action.
Last week's tally ( 6 1/2 days) The Matupiri  16 anglers in Dry-Zone South West  ended with 1689 landed peacock bass with 72 above the 10lbs mark ,and the Roçado´s 8 anglers Dry-Zone North West  ended up with   438 of which 123 were over 10 lbs including a 17,1718,19,19  ……… 24lbs .
Next week's fisheries: After 5 weeks of fishing the Matupiri, we are resting it until next September. We are now moving all operations to  Dry-Zone North West, the Roçado zone, where water level are dropping to their optimum phase. We will remain on the Roçado until reaching River Plate's maximum fishing pressure sustainability coefficient for this river type of 1,6 nautical miles per angler which is equivalent to approximately 70 anglers ; however, we have not yet " lived" the fishery to ascertain its characteristics ; ie.: lagoon depths 200 miles upriver, etc.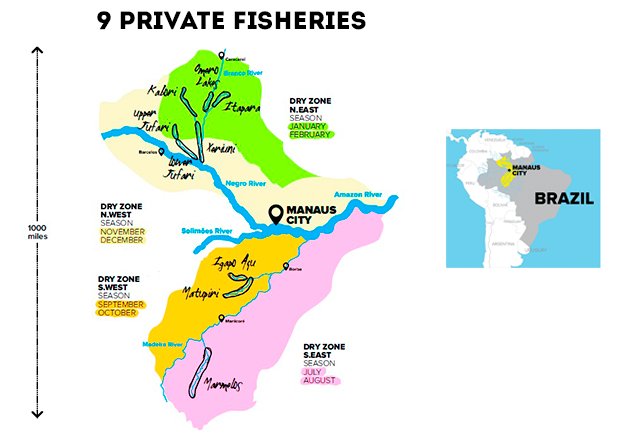 ---
Today´s Average Water Level in Dry-Zone North West

(beige in map above) Dry-Zone N.West
Guess work
Water levels are dropping on the Negro River in  the Santa Isabel area (Tapurucuara – see graph below).Something similar happens lower on the Negro in the Barcelos area. Therefore Roçado fishery is expected to keep draining at a good rate reaching the optimum fishing conditions in the next weeks, which should have occurred  mid August. But , River Plate has many other fisheries  as a fall-back.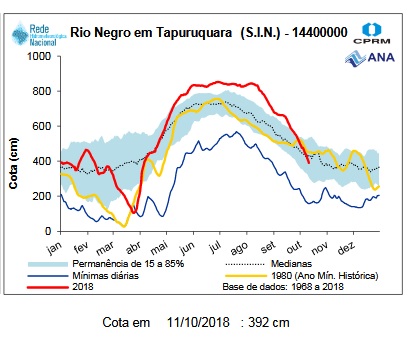 NOTE the red line are 2018 water levels, the light blue strip is the 15 to 85% probability, the dotted line is the median and the yellow line is the historic 1980 minimum, which indicates that today´s  lower water levels should have happened earlier .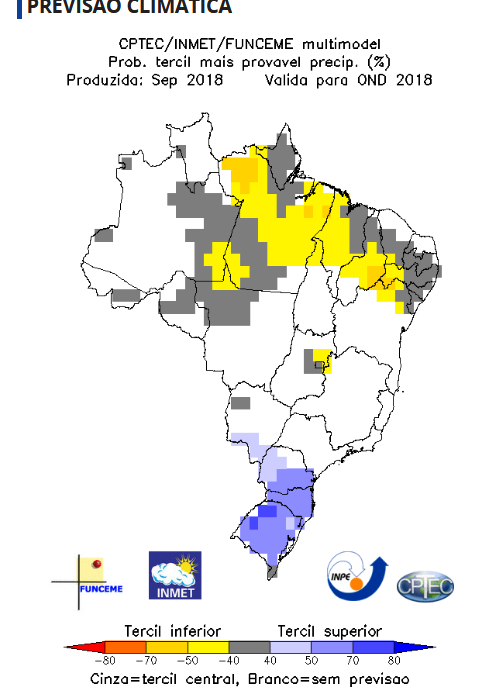 NOTE the above map is the rainfall forecast for Oct. Nov. ,and Dec. . The yellow area at the North affecting the Amazon basin indicates a 70% lower than expected rain fall in our fisheries , averting the chance of extreme high water levels for the rest of the season. Yes!
---
Weather forecast for Santa Isabel,  in the area of influence of the Roçado private fishery shows no significant rain episodes (just normal tropical showers) for the rest of the week, supporting the expected water level dropping trend. Something similar is also happening  with the Jufaris private water fishery also in same Dry-Zone where we are currently navigating.
—————————————————————————————————————————————————————————————————————-
---
All other Dry-Zones are currently closed, which is normal for this time of the season.
---
---
Gallery