Month:
December 2022
FR: October 29-December 17, 2022: Week 15,16,17,18,19 & 20
LA NIÑA IS MAKING IT TOUGHER FOR EVERYONE IN THE AMAZON BUT…
Our North Eastern Zone May Save The Season
We have seven River Trains concentrated in this zone.
Stats: Despite the many river basins River Plate controls across 1,000 miles by 500 miles, it has been difficult to maintain our high fishing standards during the last six weeks. Typically, a party of eight River Plate anglers would catch 700 to 1,000 peacocks, or more, with four percent of those fish weighing more than 10 lbs with a couple of +20 pouders. That's in addition to a variety of other tropical fish. Unfortunately, thanks to La Niña and the high water levels it has created, some of our anglers have been catching 1/3 of the number of fish we are usually able to put them on.
Guesswork:

  We are publishing this report before the New Year to inform our incoming 6 parties as of January the 6th what to expect.
Water levels across the Amazon are high, as we forecasted they would be back in early November. The North East Dry Zone has the lowest level, as is expected for this time of the year. See the "Dry Zone Map" below. However, water levels here are at the jungle-line threshold for good fishing.

Hopefully, the "dropping" water level indicated in the illustration will continue until our startup on January 5th. Alternately, we hope (and expect) the water level will at least stay the same. We base our expectation for good fishing on our 10-Day Rainfall Forecast (see below).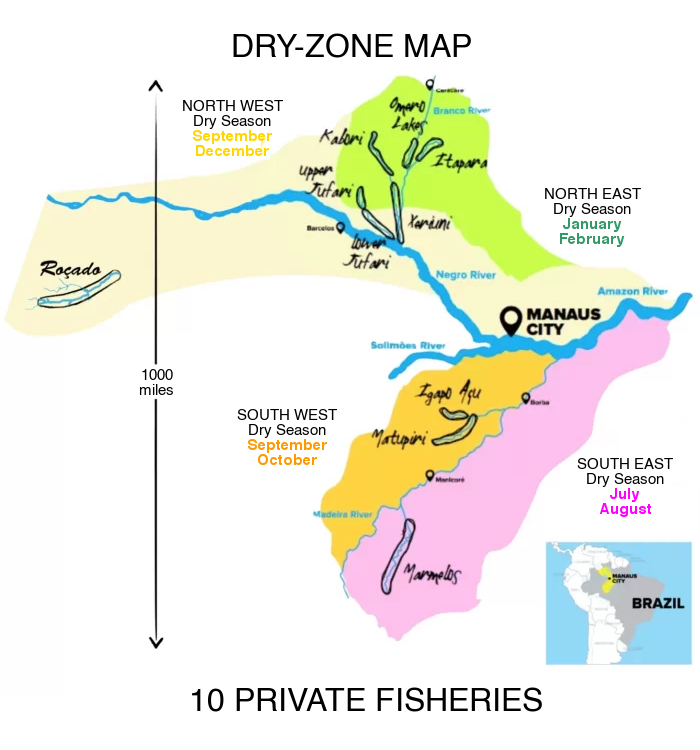 ---
Our 10-Day Rainfall Forecast starting Dec 29th is for the towns listed below in red which affect the zones mentioned. A 10-Day Forecast for more than 2 inches of rain means water levels may rise; under 2 inches means that water levels may drop.
Across much of the Amazon, rainfall forecasts are above the mentioned 2 inches, but the is expected to receive rainfalls that are very close to 2 inches. With water levels holding at the jungle line, we expect the current fishable condition to continue.
10-Day Forecasts for the towns in the North East Zone are as follows:
Caracarai: 1.79 inches (Marked as "Cca" in the map below)
Boa Vista: 0.81 inches (Idem "Bvi")
Rorainopolis: 2.43 inches (Idem "Ror")
Barcelos: 2.04 inches (Idem "Bar")
Sources: wunderground.com and accuweather.com
---
3-Month Rain Anomaly Forecast In Our Four Fishing Dry Zones
(Valid for January-February-March)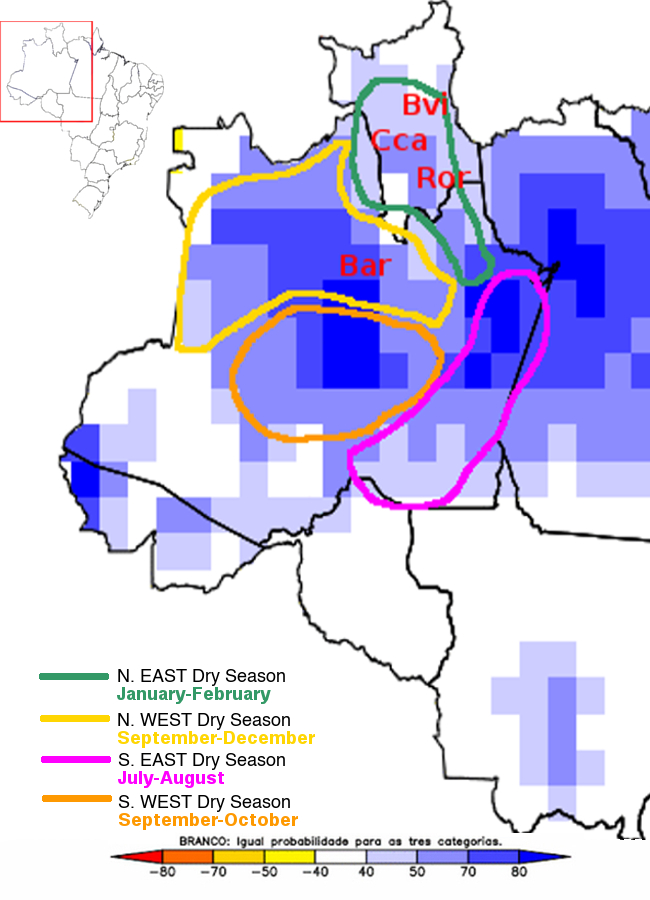 Source: CPTEC/INPE, Brazil
Our water-level predications are not just based on immediate rainfall forecasts but also on longer term (3-month) forecasts for unusual (or what is called anomalous) rainfall across all of our fishing zones.
Note that the 

North East Zone

, the zone with the lowest water levels, is in light blue meaning that it is expected to receive slightly more rainfall than normal for this time of the year.
---
---
---